Competition today, is fierce. Now more than ever, golf clubs are looking to gain an edge over their neighboring courses. As many of the boom era courses age beyond maturity, it becomes necessary to take inventory for what needs to be done to maintain the course with economic efficiency while staying current with playing strategy, aesthetics and environmental standards.
Normal wear and tear from maintenance and nature itself, along with vast improvements in playing equipment can leave a course looking and playing tired or monotonous. To stay up to par with today's golf market and maintain a healthy bottom line, clubs should take a hard look in the mirror and assess where their problem areas are and begin to prioritize and budget accordingly. This will give them a leg up on the competition and help them achieve long term sustainability both from a business and environmental standpoint. 
Establishing a Master Plan
As Golf Course Architects, we help clubs identify and prioritize what issues might exist and creative ways to address them.
Renovation can begin with a short-term or long-term Master Enhancement Plan or Golf Course Assessment that will serve as a road map into the future. 
Improvements can be executed through phases that will help control cost and logistical issues and in most cases, the golf course can remain open for business or only partially closed during the process. 
The master planning process identifies all areas of the golf course and what work is needed.  This then allows for:
Objectives to be determined
Potential phasing options
Estimated costs
Plans to accommodate development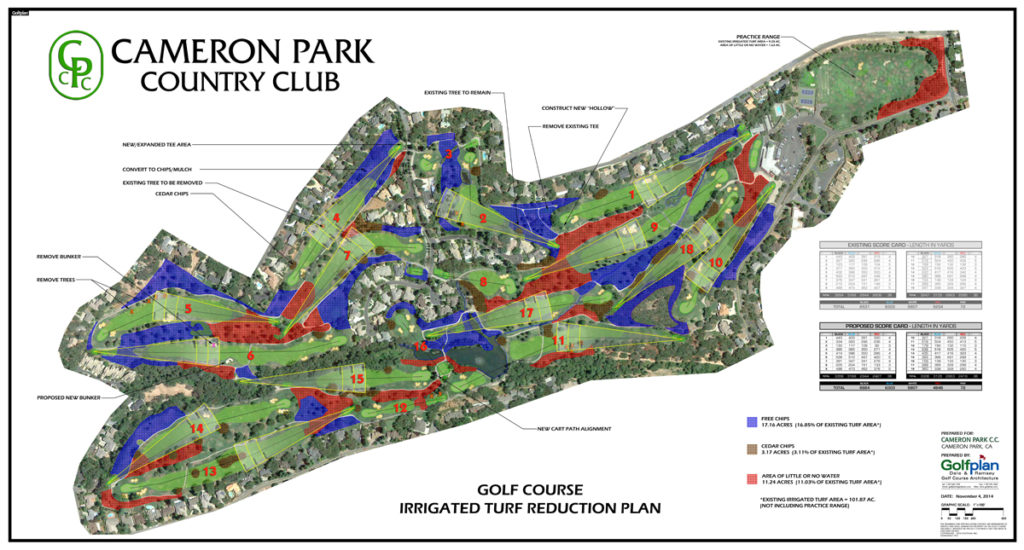 Plans for turf reduction and improved water management
Golf courses can require renovation for many reasons including…
Improving or overcoming economic issues

Maintenance problems, typically irrigation and drainage

Updating or improving strategy, playability and shot values
Historical Restoration
Improving the course aesthetic
To accommodate development

Environmental factors

Water management
How do you know when it's time to renovate your golf course? 
The simple answer is that, if you are asking the question in the first place, it is likely that your course needs some level of renovation. Every course is unique, each with its own strengths and weaknesses—all of which should be taken into careful consideration. We consider each renovation project to be a completely unique project requiring a custom set of solutions.
It is not usually necessary or recommended to "blow it up", but to propose solutions that make good functional and economic sense while vastly improving the golf experience. Like a doctor performing surgery, course remodeling sometimes requires a less invasive approach by solving the problem without creating more.
Sometimes extensive remodel is necessary, but when budget is restrictive, there is still a multitude of cost effective ways to make a course look, feel and play like new.
Golfers are constantly seeking what's new and different. Clubs who have wisely made the decision to protect and improve their life blood (the course) are the clubs that people buzz about. Consequently, they are now better equipped for relevancy and long term success. 
The ASGCA (American Society of Golf Course Architects) has published the following guidelines to assist golf course owners and manager in the decision-making process when considering renovation:
ITEM
YEARS
Greens
15 – 30 years
Bunker Sand

5 – 7 years

Irrigation Systems
10 – 30 years
Irrigation Control System
10 – 15 years
PVC Pipe (under pressure)
10 – 30 years
Pump Station

15 – 20 years

Cart Paths – asphalt
5 – 10 years (or longer)
Cart Paths – concrete
15 – 30 years
Practice Range Tees
5 – 10 years
Tees
15 – 20 years
Corrugated Metal Pipes
15 – 30 years
Mulch
1 – 3 years
Grass
Varies
* Maintenance Practices factor into longevity.